The first generation Lexus IS sedan was built from 1998-2005. It was known for being fairly stylish, and fairly refined in terms of noise levels, isolation, and luxury. It handled well enough, but it weighed 3400 lbs and with the 3.0 liter inline six, its 215 hp spun it up to a mediocre 7.3 second 0-60 time. That's not gonna put ya to sleep, but it's not gonna set your hair on fire either.
Even when C&D tested it back in 2004, they came to the conclusion what the thing really needed was more power.
Hmm… I wonder if sprinkling a little LSx juju in the engine bay might spruce things up a little?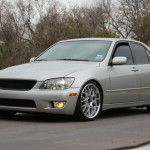 Well as a matter of fact, somebody has tried that already! Read the rest of this entry