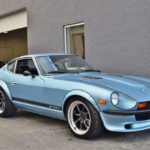 I know, I know – I called it a Nissan and it's really a Datsun. That's definitely a conversation for another day. At least for now, let's pretend like Datsun and Nissan are the same thing.
Most of the classic Z cars seem to be gaining in value these days. And that's for good reason. They offer a very unique driving experience, and unique styling to boot. They tend to be quite reliable, and are easy to work on.
The 280Z was an evolution of Nissan's original Z-car, the 240. They sold the 280 from 1975 to 1978. The bigger 2.8 liter engine made 170 hp with 163 lb-ft of torque. Some criticize the 280 for being too porky compared to the 240 or 260 models. And it's true that they are heavier – curb weight in 1975 was listed at 2,875 lbs vs 2,301 for the 240Z. But that doesn't tell the whole story. Some of that difference was due to emissions equipment (catalytic converters, smog pumps, etc.), some of it was due to safety equipment (bumpers), and some of it was due to options like bigger wheels/tires. In reality, the increase in engine size and horsepower and bigger wheels and tires led to a quicker Z, with 0-60 times dropping from the 8 sec range into the high 7's.
US sales by year (includes the 2+2 version of the 280Z):
1975 50,720
1976 59,558
1977 54,594
1978 62,699
Fun fact, many years ago I owned a canary yellow 75 280Z. It was relatively rust free, but when I bought it the suspension was original in it wallowed around on the road like a beached whale. I replaced shocks and tie rod ends and things improved. I had no one to help me bleed the brakes, and I was too broke to afford one of the handy mighty-vac pumps. So I did the best I could with a brick and a broomstick (don't ask), and I drove it around for almost a year with very sketch brakes. They worked okay as long as you pumped the brake pedal two or three times, which was not always convenient in the event of a panic stop.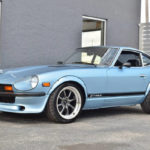 There is a specific reason that I created this 1CPD entry. I have found almost the perfect car for sale. There are only a few things I would change about it, or that I would have done differently if I were building the car. But I'll get to that later. First off, here is a copy/paste of the ad:
1977 Datsun 280Z L28 5 Speed Flared California Car- Ice Cold AC – $31500 (Miami)

RMC Miami now offering this gorgeous JDM style 280Z. Externally the car is an absolute neck breaker.
JDM fender flares have been added and color matched as the car has had a full respray. Other bolt ons added were
rear BRE spoiler , sport Mirrors, 240Z front and rear bumpers and hard to find head light covers

Suspension bits are KYB Struts with Eibach Springs. Wheels are staggered ROTA wheels 17×8.5 & 17×9.5 ,
wrapped in brand new NITTO Tires 235 40 17 and 275 40 17 with less than 500 miles on all 4 tires.

Interior is largely original. Seats show well with minor driver side wear as seen in photos. The original dash is
still present though it has a couple cracks it is in great condition overall, A newer aftermarket radio has been installed and the car has ICE Cold Air (R134) conditioning! New rugs were just put in the front. A aftermarket steering wheel NRG brand wood grain has been added to match the woodgrain shift knob. The windows roll up and down smoothly all key locks work , wipers , even the map light over the a/c controls works.

Engine wise the matching numbers L28 runs perfect, top end rebuild head mildly , Holley 600 carb mounted on a offenhauser intake, very reliable and easy to maintain Has brand new competition headers and a new exhaust. Original 5 speed transmission with new clutch installed last year. New NGK spark plugs have been installed as well the car starts up first try every time.

Needless to say the car rides like new, Very smooth and tight turns like its on rails. you can drive her to California and back with the a/c on without any issues you can daily drive this stunning Z car if you wanted.

Can Ship (Insured) Anywhere Worldwide if Needed.
Located in Miami, Florida 33126

1977 datsun 280z
VIN: HLS30403714
condition: excellent
cylinders: 6 cylinders
delivery available
drive: rwd
fuel: gas
odometer: 93675
paint color: blue
size: compact
title status: clean
transmission: manual
type: coupe
I love the way this car looks. I love the color. I love the flares. I love the black detail decals. Notice the wood shifter knob and steering wheel – love 'em. I'm not a fan of the carb conversion. All 280Z's came from the factory with fuel injection. The systems are basic, quite functional, and easy to work on. I personally have swapped fuel injectors on one of these engines in less than 45 minutes. I don't understand the benefit of swapping all that out for a carb. You'll also notice just under the rear bumper some funny looking indentations. I like the fact they have swapped the ugly federally-mandated (at the time) giant bumpers for the sleeker bumpers. But I think they should have corrected the bodywork below the bumper. What you're seeing there are the leftover scallops for the original bumper. The front of the car is perfect. Perfect! The grill and the bumper and the chin spoiler… awesome.
To take it to the next level, I might pick coilovers to replace the KYB struts. And I would source an L28ET to swap in there. That's a turbo engine out of the later-model 280ZX Turbo. These days, those engines are probably hard to find, and it might be easier to source an RB engine. The RB26DETT would give it around 275 horsepower at the baseline, and would be easy to modify for more 🙂
By the way, they are asking $31,500 for the car.