I used a Craigslist aggregator to search for C4 Corvettes with manual transmissions. It turned up something interesting in Wilmington NC, only a few hours from me.
The ad was for a 96 model with the LT4 engine. Black, 85k miles. It had been posted around a week before…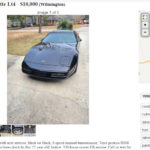 In talking with the guy, I found out it had new tires, new carpet, new seat covers, new door seals, front suspension was rebuilt, no leaks, cold AC, new clutch master and slave cylinders, ZR1 wheels, and a Corsa exhaust. He was asking $10k for the car. Because it had the souped up LT4 engine, but was not a Collector's Edition, it was actually hard to find accurate value estimates online. Hagerty's suggested it was worth $10,700, but a) I thought the mileage might prove to be deflationary, b) I thought the current used sports car market would be inflationary. All in all, I thought $10k was a pretty fair price, and couldn't find much online that would rival it.
I chatted with the owner a bit, and found out he had traded an old CJ5 Jeep to a buddy for the C4. He told me about a Mustang Mach 1 he used own. We had a good time talking about cars. Eventually he explained that he had trouble getting in and out of the C4 any more, and in fact rarely went out except for doctor's appointments. Turns out he has stage 4 cancer, and is selling the Corvette as a part of "getting his affairs in order". I was nearly speechless. Life can be short. Take nothing for granted. I hope I'm able to live and laugh and earn and have fun.
I asked him how much he would take for the car, and he told me if I brought him cash he would sell it to me for $8500. That sounded like a deal too good to pass up.
I asked around to see if any of my friends might want to drive me to Wilmington during the week, but had no takers. I shopped both Lyft and Uber, looked at cheap flights, checked 1-way rental car prices. I ended up hiring a guy off Craigslist who owns his own delivery service.
It was a long 3.5 hour ride down. I was able to get some work done on my laptop. We did not make any stops.
Once I arrived, I chatted with the guy for a few minutes, then we went for a drive. We swung by his bank to get the title notarized, but all the notaries were at lunch. We went to a packaging place as a backup. We went back to his place, and it took him a while to count out all the cash.
It was a long 3.5 hour ride back. I did not make any stops. See a pattern here? Oh, my aching bladder.
Some car observations from the drive back:
1) The C4 has very little space in the footwells. I wear a size 10.5, and I still managed to accidentally stomp on a pedal occasionally when wiggling around during the trip.
2) There is a lot of whine at speed. Maybe gear whine? I don't think anything is wrong, it's just not a quiet car.
3) The AC was weak. I'll have to check into that.
4) The Corsa exhaust was basically completely unnoticeable unless I got into the throttle.
5) I didn't push the car or drive it to its limits, but the handling is a very unique experience. It felt very flat, with very little dive or squat, very little lean. The gummy 315's in the back feel enormous and unbeatable. The steering (which I'm told was refurbished) feels a little more vague than the C5 Z06 I owned, but the handling felt less squishy.
6) It averaged 28 mpg on the way home.
7) The front speakers, which are way down in the footwells, aren't terribly effective.
8) I got no less than 4 waves (3 from other Vette owners, and 1 from a Camaro guy) on the way home.
9) The center console around the gearshift is really the only interior part that seems old. It has some scratches and is sticky. I may try to refinish it or replace it.
More to come!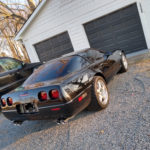 PS – the old ZR1 post.
3/30/21 Edit:
I sold the car today for $10k. That might have been my fastest flip yet.
1996 Chevrolet Corvette LT4 – Purchase