Okay, listen, I realize time marches on. The surest way to be disappointed in the performance of a classic sports car is to try and compare it to something rolling off an assembly line these days. Horsepower wars are a real thing, and they are happening right now in the auto industry.
If you pick out a sports car from 20 years ago and then line up against some of the stuff that's out there now, there's a good chance you're going to get your butt kicked.
So it's in that context that I want to talk to you about the ZR-1. Specifically, the C4.
When GM came out with this thing in 1990, people couldn't stop talking about it. I remember reading this exact article in the April 1991 issue of Car and Driver magazine.(1)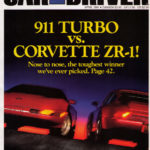 It was a comparison test between the 1991 ZR-1 Corvette and the 1991 Porsche 911 Turbo. I was fifteen years old at the time, so I was quite impressionable. I would have done *anything* to own either of these cars, and I'm sure many teenagers were the same way.
GM had acquired Lotus back in the mid-80's. And they presented Lotus with the idea of coming up with a special Corvette that would be the fastest production car in the world. Keep in mind that at the time, the 1986 Corvette was powered by the L98 v8 engine that produced 230hp. That was good for a 0-60mph time of around 6 seconds.(2)
Lotus started working on a supercar engine, meanwhile the world continued to evolve. By the time the 1990 ZR-1 came out, the L98 had been bumped up to 245hp. The engine Lotus designed for the ZR-1 was deemed the "LT5" and it had an incredible (for the time) 375hp. GM actually had trouble finding someone to make the engine, and finally settled on Mercury Marine. So yes, the fancy Corvette had an engine made by boat people!
This new engine dropped 0-60mph times down to around 4.9 secs, clearly a huge improvement over other Corvettes of that era. Its quarter mile time was 13.2 secs at 108 mph. Because the LT5 was all-aluminum, it had minimal effect on the overall weight and balance of the car (curb weight in this test was listed at 3519 lbs).
It ended up winning the shoot-out with the 911 Turbo in that C&D article, even though the 911T ended up besting the Corvette with a 0-60mph time of 4.4 secs.
The ZR-1 looks much like other C4 Corvettes, but there are some subtle differences that only "experts" might pick up on.
First of all, the rear fenders were pushed out to handle some gigantic 315/35-17 tires. Also, the rear bumper on the ZR-1 swooped out instead of being concave, and had four square tail lights instead of the round tail lights of the "base" Corvette. There was also a high-mounted third brake light that was unique to this model.
But that's just the exterior. There were other invisible upgrades that make the ZR-1 very desirable in terms of "king of the hill" performance. It had a beefier rear differential, beefed up cowl structure to minimize shake at high speeds, and many of the Z51 upgrades for brakes and suspension.
When the C5 Corvette came out in 1997, it's 345 hp engine began chipping away at the king of the hill. Most C5's are capable of doing 0-60 in the high four-second range, and are typically considered to be the equal of the C4 ZR-1. But it wasn't until 2001 when Chevy did the Z06 that its performance was eclipsed (i.e. 0-60 time of 4.3 secs).
That was a long-winded build-up to explain that I understand the ZR-1 is no longer considered to be astounding performance. The world has indeed moved on. But as a collector car, or a classic, I think it has a lot of merit.
Some of the classic cars out there are so awful to drive, so impractical, so unreliable, that they really aren't good for anything more than just being looked at. The C4 ZR1 certainly doesn't fall into that category. The suspension is quite livable. For the most part they are quite reliable. Calling a 2-seater that sits only inches off the ground practical may be a stretch, but this isn't something that can't be driven on the street with ease.
As you can imagine, prices on ZR-1's are all over the place. Considering they are supercars of the time, they are quite reasonable. These days, there's been quite a run-up of Porsche 911 prices, so if you were to compare the 1991 ZR-1 pricing to the 911T prices, you're definitely going to get a bargain!
Let's do a bit a round-up, and see what we can buy on today's market. We'll cover Ebay, Craigslist, and maybe a few other hiding spots depending on what we find.
Ebay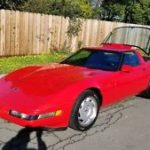 1) There are four days left on this red 91, and it will be interesting to see where it ends up (currently at $10,000). It's located in Vallejo CA, and has 69k miles on it. It doesn't appear to have a reserve. The seller has good feedback, but not much of it. The photos are only average, and the seller did a really crappy job of providing details in the ad.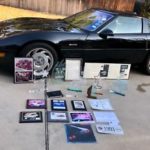 2) While I was typing this up, the auction for this black 91′ ended. It had a buy it now/ best offer of $17,995. It's a Texas car, and the photos and description are slightly above average, but still lacking considering this isn't some kind of $5k beater. This car was being sold by a dealership with great/plentiful feedback.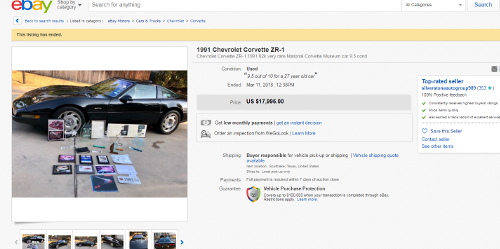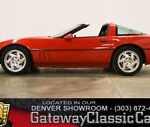 3) The last ebay auction I'll cover today is for this gorgeous 1990 model. It's in Colorado, and is being sold by an outfit by the name of Gateway Classic Cars. They do a lot of business on ebay. They only have 81.6% positive feedback. Reading over some of the negative comments, I'm sure it's difficult with older, classic cars to please everyone. This ZR-1 has 87k miles, so it's no spring chicken. They've done their typical, excellent job with the description and photos. The classifieds ad price is $18,995.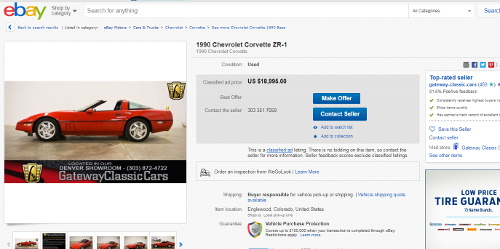 Craigslist
Looking at a few of the less expensive ones on Craigslist makes me think we are bottoming out prices. You can't possibly get any cheaper for a C4 supercar, right?
It's not hard to find some really solid, nice examples in the $15k-$20k range. Here are a few of the less expensive options:
1) This 1990 is advertised in the Orlando Craigslist for $15,000. It has 81k miles, and the same owner since 1997. He claims he bought it from astronaut Susan Steel. It's white with red interior, which is quite rare. The alternator, battery, and fuel pump were replaced for the sale. It doesn't sound like it needs any more work. This was posted 2 months ago, and I've contacted the seller to see if he still has it.
Edit:
He replied. His note back to me follows:
Thanks for the inquiry. The car is very sound, in excellent mechanical condition and would have no problems getting on the highway.
The ZR1 has been stored for the last 16 years, so it would appreciate being driven.
The 1 thing I would look to change would be the tires. May not be a problem, but they have been on the car for 16+ years.
Please email or call with any questions or concerns.
Thanks, JP
PS: I am in the southern most part if Jacksonville closest to St Augustine right off i95….fyi.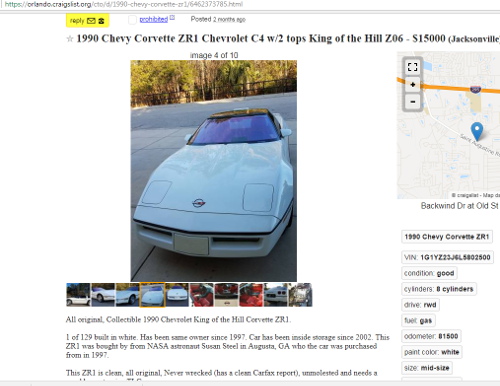 2) Here's another '90 model, this one for $13,500. The owner mentions it needs some ABS work, has a few scratches here and there, and needs a recharge for the AC. It only has 51k miles. It's in Muskegon Michigan.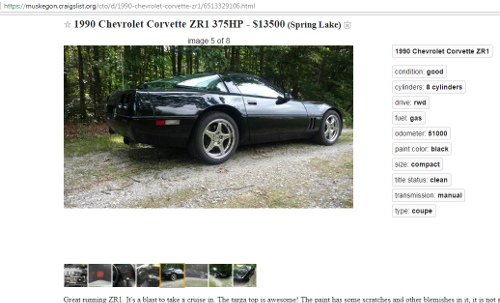 3) Okay, take a deep breath and hold it. Make sure your'e sitting down, I don't want you fainting and whacking your noggin. This red 1990 ZR-1 in Los Angeles is advertised for an incredible $9999. Granted, it has 131k miles on it, and needs: tires, AC recharge, window switch, seat upholstery, and something is wrong with the tach. This was posted 26 days ago. Maybe the owner is negotiable, and you could pick this up for $8900? Incredible…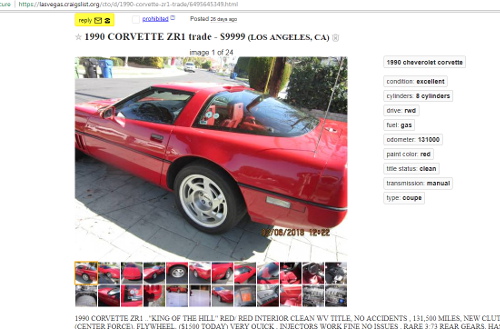 References
(1) http://media.caranddriver.com/files/1991-chevrolet-corvette-zr-1-vs-1991-porsche-911-turbo-submodel-comparison-test-car-and-driver1991-chevrolet-corvette-zr-1-vs-1991-porsche-911-turbo.pdf
(2) https://www.caranddriver.com/flipbook/the-chevrolet-corvette-a-history-in-zero-to-60-times#21