2006 Mustang GT – The Inspiration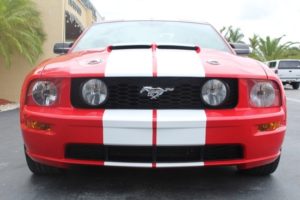 On April 17, 1964, the Ford Mustang went on sale for the first time. Over 22,000 ponies were snapped up by hungry consumers on the first day. In Detroit, Lee Iacocca was hailed a genius. His idea to come up with a four-seater car with bucket seats, a floor mounted shifter and be no longer than 180 inches turned out to be the start of a long-lasting love affair between Mustangs and the American public.
Who doesn't love a Mustang?
My dad did. He was one of the 22,000 fanatics who bought this ride on the first day of release. It was kind of a brown mustard color with a beige ragtop. Dad's idea of a good deal meant he bought a 6 cylinder with a 3-speed manual transmission for under $2,400. It had all the performance characteristics of a Ford Falcon. That's probably because all of the underpinnings were Falcon parts.
I didn't care. It was a babe magnet and that's all a sixteen-year-old could ask for.
Ponies in the Pictures
Ford didn't waste any time promoting the Mustang to the masses. Deals were struck and the long hood, short deck, sports car, started appearing on the silver screen as a product placement arrangement. Goldfinger marked the pony's debut. Bond, in his Aston Martin DB5, chases the voluptuous and villainous Tilly Masterson in her spanking new Mustang up mountain roads. Using Aston Martin's optional "spinning blades axel extension," Bond shreds Tilly's tires sending her and the cute white Mustang to a bad end.
Quickly the Mustang went from prop to supporting actor. Steve McQueen and a 1968 Highland Green Mustang fastback sporting GT package and 390/4V engine, blasted through the streets of San Francisco in Bullitt. The original Gone In 60 Seconds featured a 1973 SportsRoof named Eleanor that gets the crap kicked out of it in one of the longest, and most destructive car chases in movie history. In Getaway, the 2013 Shelby GT 500 Super Snake gets more time on camera than any of the human stars.
And then there was I Am Legend, a sci-fi flick set in NYC starring Will Smith and a 2007 Mustang Shelby GT 500 Super Snake. Whoa! Lots of grumble-rumble exhaust tones, tire shredding, and pedal to the metal races through downtown New York City. The Cobra, with its shiny red paint job and two white racing stripes, clearly was the most talented actor…and it wasn't acting.
5th Gen Mustangs Bring the Pony Back from Oblivion
In the late 90s somebody at Ford's design shop apparently channeled the Mustang's Falcon DNA and created a 4th Generation that looked like a Taurus. Not very exciting but then neither was the Mustang II that preceded it.  Sales suffered. it wasn't until 2005 when the 5th Gen hit the showrooms that the pony got back it's spurs back and it got them back in a big way.
That look that sold so well in 1964 is what inspired the designers of the 5th generation GT. The fastback (what Shelby called 2+2) was back with a roofline and taillights that recalled those ponies of the 1965 vintage. Back also was the canted nose with its big grille and round headlights, side sculpting, and a retro interior.
The looks were cool, but the real seller was the return of performance. What was under the hood and under the car made the Mustang GT a player again.
The GT came in two trims, Deluxe and Premium. There really wasn't any difference between the two other than leather seats and a better sound system. Engine choice, suspension and transmission choices were identical:
Engine:SOHC 24-valve 4.6-liter V-8
Power (SAE net): 300 bhp @ 5750 rpm
Torque (SAE net): 320 lb-ft @ 4500 rpm
Zero to 60 mph: 5.1 seconds
Transmissions: 5-speed auto, 5-speed manual
Suspension: McPherson Strut w/coil springs, live axle
Brakes: 4 wheel disc, 4 wheel ABS
If you are looking for an affordable coupe or convertible that's fast and fun and comfortable enough to drive every day, the 5th Generation Mustang GT deserves serious consideration.
Want one?
I found one.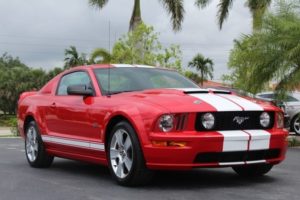 If you are anywhere near sunny Southwest Florida, there's a dealer in Fort Myers that has a 2006 Ford Mustang GT that looks pretty sweet. I found this on CarGurus.com if you want to follow up.
The reasons I think this is worth a serious look is as follows:
It's freaking beautiful. That Torch Red Clearcoat paint job is highlighted by two big racing stripes. At first, I thought this might be a Cobra.
It's a one owner car. Living in Naples, FL, it's obvious this ride has been garaged all its life. Our UV exposure would have done a number on that clearcoat if this GT lived in a parking lot or driveway.
And here's the big kicker. This car has 32,212 original miles! That's 2,684 miles per year. Sound implausible? Not down here in God's waiting room where it's not uncommon to see seniors driving the ride they always wanted only to discover they can't see at night or deal with the Snowbird seasonal traffic that rivals rush hour in L.A.
The interior is in great shape and it appears to have leather buckets meaning it is a GT Premium trim and comes with an upgraded sound system.
The description provided by the dealer stresses that this car is in incredible condition. They say you can hop in it and drive cross country. That's dealer hyperbole of course, but for it to be so strong it probably is in better shape than most 12-year-old cars.
Now about the price. The dealer is asking $14,970 which is about $4,500 more than KBB says it's worth. However, that KBB estimate is based on Good or better condition and 144,000 miles.
Here's the way I see it. If you can provide the same level of care as it has obviously enjoyed, and the ride is as sweet as you think it is after you inspect it, and you want to keep it long term, then it might be a good deal. At some point, the 5th Generation GT will become a collectable because it put Mustang back in the race. Also keep in mind this car has been on the lot for 3 weeks so there is probably a good chunk of wiggle room in the price.
If you plan to drive it a few years and then trade it in, just walk away and find one for $10,000 or less.
Of course, you could also leave this GT alone and search out a 2016 Mustang GT Shelby Cobra with its 450 horsepower, 450 lb.-ft. of torque, Brembo calipers, 19-inch alloy wheels, and all the rest. But that's another story.