You know what was an amazing car?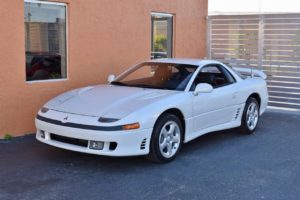 The Mitsubishi 3000GT VR-4. You could even argue this was the best Japanese car of the decade. After all, back in 1990, Mitsubishi set out to make this the JDM on everyone's mind. And this major goal included surpassing cars like the Nissan 300ZX and the ultra sexy Mazda RX-7.
So, did Mitsubishi succeed?
You bet it did! Released as the GTO in Japan, this epic car revved up quite the storm with its release. And even today the 3000GT VR-4 still remains one of the best-designed cars out there. In fact, this sleek car even set the standard for the modern JDM car. So buckle up! We're about to dive into everything that makes the 3000GT VR-4 one of the most epic vehicles of all time!
Okay, so before we begin, let's clear up a big question:
What's so great about the VR-4?
If you've looked at the 3000GTs on the streets, you'll notice that most of them lack the VR-4 logo. This might seem like a minor detail. But when it comes to the drive, these letters (and number) make all the difference.
First off, the VR-4 offered a twin turbo engine. This amounted to a solid 80 more horsepower than the SL counterpart. Putting this into practical terms, this was enough power to allow the VR-4 to race from 0-60mph 3.2 seconds faster than the non-VR-4. 
Also, note that the VR-4 offered all-wheel drive. Other 3000GTs only offered FWD. So put all this together, and you'll find that the VR-4 drives quite differently than its other 3000GT counterparts.
3000GT VR-4 Specs
While we're on the topic of horsepower and drivetrain, let's take a look at what the VR-4's engine packed back in the 90s.
As we already covered, this is a Twin Turbo V6 engine. To be exact, this was the 6G7 series that you'll find in countless other cars like the Hyundai Sonata.
Back to the 3000GT, this motor was more than capable of pumping out 300 horsepower. In other words,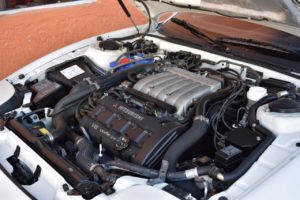 this little Mitsubishi could drive pretty fast when compared to its competition. Specifically, this was enough power to push 0-60 mph in 5.2 seconds.
Not convinced this is fast? Then let's do some comparisons to other Japanese cars from that time. The 1991 Acura NSX needed a full 5.7 seconds to reach 60 mph from rest. Even the 1991 Nissan 300ZX Twin Turbo took 5.5 seconds for a 0-60 mph. So it's safe to say that the Mitsubishi 3000 GT VR-4 dominated its fellow JDMs back in the day.
Of course, it wasn't all horsepower that led to this feat. Instead, this Mitsubishi was pretty innovative in the early 90s with its active aerodynamics. This fun little feature kicked in at 50 mph. Visually you'd see the spoiler tilt automatically. The front lip would also lower to reduce any downforce. So the active aero not only sped up the 3000GT but also made this sporty vehicle look pretty cool in the process.
Another nice feature here involves the two exhaust modes. With the flick of a switch, you could effortlessly jump between sport and touring mode. Really, the names say it all here. Touring mode is what you'd use for your casual Sunday drives. Meanwhile, you already know what sport mode does—this is where all the fun begins.
Design
The Mitsubishi 3000GT does much more than drive well. It also happens to be one of the sexiest Japanese cars you can buy.
In truth, all models of the 300GT look alluring. But the first generation (1990-1993) easily wins when it comes to the aesthetics.
Everything about this car simply looks sporty. The sharp angles and contoured sides even seem reminiscent of the Ferrari 348.
But what really helps the first generation stand out is those pop-up headlights. Seriously, this feature alone adds cool points to just about any car out there!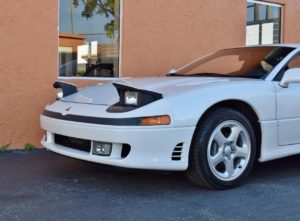 Take a seat inside this sleek JDM, and you'll find the design continues to impress. The leather interior is nothing short of sporty and trendy—even by today's standards. Even better, every switch and button feels functional. Nothing feels excessive or out of place here.
Can it Race?
Okay, so we've established that the Mitsubishi 3000GT VR-4 carries some stellar performance, right? Good. But that's just with stock parts. If you ever plan to take the 3000 GT to the racetracks, you'll find just as great of results there as well.
If it's any motivation at all, check out this video of a 3000 GT VR-4 whooping a Toyota Supra. Again, there are definitely some mods here. But it should give you an idea of the potential these cars bring to the table.
How Much Does a Mitsubishi 3000GT VR-4 Cost?
As you might have guessed, these cars are becoming rarer by the day. If you want a pristine and non-tuned version, it's even more of a taxing journey.
But that's not to say that they don't exist at all. Here's an ad from eBay selling one from 1991 for just south of $40,000 in Miami.
So, with that in mind, let's rephrase the question above: Is a 3000GT VR-4 worth $38,500?
In this case, it's a damn good deal!
First off, take a close look at the exterior of this car. You'll find no visible damage at all! This means no scrapes, scuffs, scratches, dents, or anything else.
Next, let's move to the odometer. This 1991 car only has 2,201 miles on it. That's it. In that case, we could almost write this one off as brand new! You seriously don't find cars in this great of condition every day.
And that's still not all. The seller left one final note that's a clear sign this car is in good shape: There are no modifications. Period.
The only non-original piece here is the battery. But really, that's to be expected. This car is from 1991 after all. In fact, that's probably older than a bulk of the people who'll read this post!
The sellers were even kind enough to include a video walk around. So you can check that out below:
Seriously, finding any classic JDM in this great of condition is about as common as finding a Sasquatch or a payphone these days. Simply put—they're hard to find. So if you're looking to get your hands on one of the best vehicles to come out of Japan, this is about as great of an opportunity as ever!
All images courtesy of the eBay post