It's very rare, but occasionally I will come across a swap so insanely built that I am awestruck. This is certainly such an occasion.
Mazda released the first generation FB-Series Rx-7 in the States in 1978. The Rx7 always had a unique rotary engine. The FB had a 12a, which was a 1.2 liter and had 100 horsepower with 100 ft-lbs of torque. By 1984, the car had grown into a version called a GSL-SE. It had a 13b engine, which was fuel injected, 1.3 liters in size, and had 135 horsepower with 133 ft-lbs of torque. At only 2,400 lbs, these things were pretty peppy. I owned one in high school. Mine got pretty bad gas mileage, and the steering (which is a recirculating ball design) was pretty bad. But I remember when Car & Driver magazine did a write-up on the SE version, and they something about "entire city blocks can be covered sideways." Well, maybe if you are a Car & Driver editor, and not a pimply teenage dude with an 89k mile example with worn out steering. I introduced mine to a ditch or two trying to prove that statement.
I digress.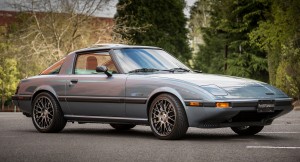 Doing a high quality swap in a nice shop when you have lots of money and the best tools and just buying all the parts you need is one thing. But when you see something ultra-fine and it's apparent that it was all done by hand… awesome.
Well what do you know, it's a very custom Nissan KA24DE engine. These were used in the Xterra, 240SX, etc. Stock power level was around 155 hp. This old girl is laying down 400whp at 16psi of boost on pump gas:
bored 0.040″ over
wiseco pistons
eagle rods
arp fasteners
hand ported head
crower valve springs with oversized valves
bc cams and titanium retainers
garrett gtx3071R
stainless steel tubular manifold
water cooled tial 44mm external wastegate
1000cc injectors
q45 throttle body
evo 8 intercooler
cast aluminum oil pan with windage tray and crank scraper
LS2 coils
There are so many little handmade touches. Like the strut tower brace, a hydraulic engine damper, little perfect gussets on the intake manifold. Electronic cruise control on a swap car? Why not. The entire front and rear brake system were transposed from an Evo 8. That kind of crap takes forever to fabricate and install and troubleshoot. And yes, those are Enkei Bortex F17 rims (17×7 front, 17×8 rear).
I don't know who built this thing, but wow. Kudos. This was posted on Radium Engineering's website.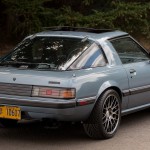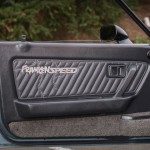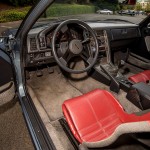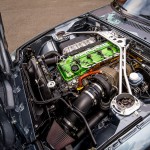 Source: RadiumAuto
Craaaazy FB Mazda Rx-7 Swap