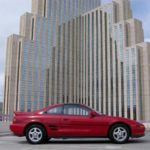 The second-generation Toyota Mr2s are known as being the "poor man's Ferrari".
The 2nd gens were sold during the 10 year period from 1989-1999. For the US market, there was a normally aspirated version making 130 hp, and a turbo version rated at 200 hp.
The turbo version uses Toyota's 3S-GTE engine. This is a 2.0 liter four-cylinder. It is equipped with a small air-to-air intercooler, which helps keep intake temps down and makes for a more consistent (and knock-free) power level.
Turbo models were initially rated at a brisk 6.1 second 0-60 mph time, with a quarter mile in 14.2 seconds. They could hit a top speed of 142 mph, certainly nothing to sneeze at.
As a mid-engined car, they can occasionally inspire some butt-clenching moments during aggressive off-ramp driving. Some consider these cars to have "snap-oversteer", not unlike some of the Porsche 911 cars back in the day. Although all cars had staggered wheels (with larger rubber in the back helping tame the oversteer), some suspension changes were rolled out for the 1993 model year that revised rear toe links and further tame the trait.
1993 models also got the benefit of dual-cone syncrhonizers on 2nd and 3rd gears, improving shift quality and transmission longevity.
These design improvements didn't really seem to help sales. US sales by year:
1984 | 1,217
1985 | 37,674
1986 | 31,352
1987 | 15,742
1988 | 8,144
[2nd generation]
1989 | 2,537
1990 | 17,606
1991 | 9,505
1992 | 3,740
1993 | 1,742
1994 | 625
1995 | 933
Of the 129,977 1st and 2nd generation Mr2s sold in the US, the tally is:
1st gen = 93,289
2nd gen = 36,688
Obviously, the 2nd generation cars never struck the same chord of popularity as the 1st gen cars. Why is that?
Incidentally, the 3rd gen cars really didn't fare any better:
2000 | 7,233
2001 | 6,750
2002 | 5,109
2003 | 3,249
2004 | 2,800
2005 | 780
One reason for the 2nd gen miss was cost. A 93 Turbo Mr2 had an MSRP of $24,728, while the base car ran almost $19,000. But in 1991, the base car only cost $15,000.
When Car & Driver Magazine tested the 1987 MR2, it's base price was $10,999. Clearly, cost/value was one thing that hampered MR2 popularity over the years.
And as the car evolved, the design strategy shifted a bit as well. The size of the car grew, as did its weight. Performance obviously improved as the turbocharged version became available, but it was certainly a departure from the original, more minimalist theme.
Year | Length | Weight
1987 | 154.5 in | 2,396 lb
1993 | 164.2 in | 2,915 lb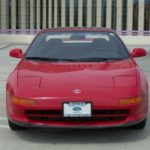 Regardless of their popularity during the 1990's, these cars are a tremendous pleasure to drive. The interior is reasonably spacious, and although "dated" in the sense that a 1990's car doesn't have the style or standard of a new car, they are of great quality.
The 3S-GTE engines are real gems. Toyota tweaked and improved them throughout their lifespan. The version used in the MR2, and also in the Celica ST185, was actually the 2nd generation. It used a CT26 turbo pushing 10 psi. They are known for being very tough and moddable.
Speaking of mods, these turbo cars can be modified to reliably perform and very high levels. Generally accepted:
Stage 1 – 40-65 hp increase (240-265 hp)
requires boost controller, exhaust, intake
approx 15-16 psi
Stage 2 – 90-115 hp increase (290-315 hp)
upgraded turbo
upgraded intercooler
18 psi
fuel cut defender
Stage 3 – 140-185 hp increase (340-385 hp)
quite a bit of upgrades required
18-20 psi on pump gas, 20-22 psi on race gas
stock head gasket is usually good for 22 psi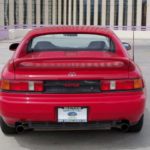 I tangled with a few Stage 1 or Stage 2 cars in my youth, and they are certainly a force to be reckoned with. A stock car is sprightly and enjoyable, whereas the modified cars can perform as well as pretty much anything on the road.
In late 1993, a 3rd generation 3S-GTE engine was introduced in the Japanese market, and it was rated at an even stronger 242 hp. A quick internet search (note this certainly doesn't make me an expert) suggests it's possible to import a nice Mr2 from Japan for between $8-$10k. As far as I know, only RHD cars are available. I don't know about you, but I'm not sure my left hand would be able to shift a 5-speed without a little practice!
These cars are becoming more and more rare. Finding one in good condition and unmodified is becoming quite a challenge. Here's one for sale on ebay. It's at $4,600 from 8 bids with 2 days left on the auction.
It's a 1991 Turbo, so it doesn't have the benefit of several of the improvements unleashed by Toyota for the 1993 model year. With 106k miles on it, it's no spring chicken. The description by the dealer, located in Reno Nevada, leaves a lot to be desired.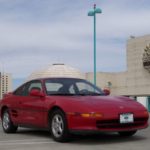 I love the red color. The exterior looks to be in great shape. The dealer just says there's no apparent "major" damage, so it's hard to know if it has ever been repainted. Red tends to fade with time in the sun. I see some minor fading in places, but the paint appears good. I think the detailer could've done a better job, since some of the spots low on the car don't appeared to have been cleaned/polished.
I see a few nicks and rock chips on the front end, but the rest of the body looks good. The OEM factory wheels look surprisingly unblemished. The tires are mismatched, with some Sumitomo and some Falken. The power antenna is extended in the photos, but it appears the radio is on so it would be premature to assume it's not functioning properly.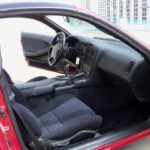 The interior looks amazingly nice, if not a ten I would at least rate it a 9. Seats have a bit of fading but almost no wear. Door panels looks good, with only a small spot on the passenger's side. The shift knob looks ok, but the boot could use a refresh. The oem factory cassette and CD player look nice, with no cracks or peeling plastic. There are no close-ups of the dash, but from what I can tell it's free of cracks.
Again, I wish their detailer had done a better job inside too. Going at some of the crevices with a q-tip and getting many of the interior glass and plastic surfaces clean as opposed to just wiped down would make it look much better.
The AC isn't mentioned in the description, but it appears to be turned on and presumably functioning in the photos.
The spare time appears to be there. In the same photo, I think I can see a 2-prong electrical cord coming out of something. I'm not familiar enough with the cars, or have forgotten what this could be.
There's a photo of the trunk full of hoses and possibly an intercooler. There's an HKS manual in there too. HKS is a fairly popular manufacturer of performance parts, often for turbocharged cars. This makes me think the car either is or was modified, but again the crappy description from the dealer doesn't mention it.
Photos of the underside of the car don't appear to show any corrosion. I wouldn't expect any with a Reno car, but of course without access to a vehicle history report, we can't be sure it wasn't owned/operated in a more corrosive climate in its past.
I'm not sure what the reserve is, but I personally would probably be willing to pay $5-$6k for a car like this. I think one with lower mileage, with fewer unknowns frequently fetch in the $8k range.
Edit 1/13/17:
I have a horrible track record of not following up on auctions and sales to report back on the post what the car actually sold for. I'll break that habit today, by letting you know the bidding for the MR2 mentioned above got to $4,650, apparently didn't reach reserve, and was subsequently relisted. You can find the link to the relisted car below. As mentioned above, the dealer didn't do a very good job of describing the car in the initial auction, and just copied/pasted into the relisting. With some of the imperfections and unanswered questions about the car, I don't think it should net huge dollars, so it may be interesting to see how much lower the new reserve is, and how high the bidding will go over the course of the next 5 days.
http://www.ebay.com/itm/1991-Toyota-MR2-Turbo-T-Bar-Coupe-/311778387533?vxp=mtr
References:
http://www.caranddriver.com/reviews/toyota-mr2-turbo-archived-test-review
http://www.caranddriver.com/reviews/toyota-mr2-archived-long-term-test-wrap-up-review
http://www.koracing.net/viewarticle.php?article=10
https://en.wikipedia.org/wiki/Toyota_MR2