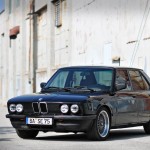 The young whipper-snappers these days are really something else. They can't tie their shoes cuz one hand is needed at all times for mobile Facebooking. They can only drink coffee if it costs $12 and tastes like candy. And what's even crazier: they may have lived their entire life without ever seeing an E28-series BMW.
The E28 was produced from 1981 to 1988. These were heady years for BMW, and they tended to make everything bullet-proof. Around three-quarters of a million of these were sold over the years. The body style is so distinctive, with tons of character and presence that many newer cars lack. There are no filters here. This is an old-school, analog car with direct steering and no crazy computers standing in-between you and the road.
The 535is was the uber 5-series in 1988, except for the M5, which we'll worry about in a minute. The 535is came with upgraded sport suspension, unique front and rear spoilers, a no-fooling-around limited slip differential, and a gigantic 3.5 liter slab of inline six goodness. Yes, 3.5 liters is a lot for an inline six, and yes this thing serves up torque like a blackjack dealer in Vegas tossing out cards. It was listed in 1988 as 182 hp with 214 lb-ft of torque. They only weighed about 3250 lbs, and zero to sixty was in the mid-sevens, not bad for a sedan in the 80's.
The e28 M5 took the mighty 5-series to a whole new level. BMW worked some kind of magic juju on the 3.5 liter engine and souped it up to 256 hp with 243 ft-lbs of torque. The zero to sixty time dropped to the mid-to-high 6's, and car enthusiasts the world over clapped their hands and clicked their heels. Yes, it's true that the first generation Ford Taurus SHO would give the e28 M5 a run for its money in the quarter mile, but seriously come on, we are talking about M-heritage here.
Except… poof goes the M-heritage when a brilliant wrench-turner drops an LS1 into it. If you are wondering, yes pretty much everything tastes better with ketchup. And yes, pretty much everything is better with a little LS1 love. From our friends at MyE28.com:
1988 535 with LSx swap completed by Jake Barkell at ClassicDaily.net
This car started as Jake's personal car in a 1985 Silver body e28. In 2014 it was swapped to it's current body, a black 1988 535.
Please look at http://www.classicdaily.net/gallery/?album=E28LS1 for the original build photos to see the detail put into this car.
The T56 6-speed transmission has since undergone a rebuild and a LS6 intake has been installed for 300hp at the rear wheels, as verified on Jake's dyno.
Car includes –
Cardinal Sport interior
Sisal Coco Car Mats
Fresh window tinting
Cold AC
Sunroof
e34 540 front and rear brakes
Bilstein shocks with Eibach springs
M6 steering box
e28 M5 shadow trim and spoiler
Powder coated euro bumpers
HID headlights
E39 Style 5 wheels with a spare (5 wheels)
Hard wired Valentine V1 connector by rear view mirror
Always stored in heated garage with battery tender
Located in Bay City, MI
Asking $20,000
The quality of this build looks incredible. Looking over the list, you can see that tons of stuff was updated on the car. I don't have any misplaced, romantic notions that a 1988 5-series with 350+ hp (at the crank) will be a bed of roses. Yes, it could need a little love and tender care on occasion, yes it may have a few creaks and rattles. But an 88 5-series in this kind of condition is rare, and one so thoroughly and expertly souped-up is even awesomer.
$20k sounds steep, but it could probably be dickered a bit. Also, who cares – we are pretending like we are rich and can store as many cars as we want to buy.
stamp of approval = yes
would buy = yes
This E28 535is LS1 Swap Makes the World A Better Place