When I was in high school, one of my friends owned a 1982 Maxima. This was back in 1992 or so, so at the time the car was ten years old. It was silver and a 5-speed.
That kid drove the damn wheels off that Maxima. He treated it like it was a sports car. I bet it saw redline multiple times a day, every day, for several years. He wrecked the car a couple of times with me in it, no telling how many times he slid it off the road when I wasn't around.
Little do folks know these days, but the first generation Maximas (and 810's) were rear wheel drive. My high school buddy was drifting back in the day before people even knew what drifting was.
It absolutely did not have a limited slip differential in the back, so when he would stomp on the gas pedal and sling the car around a right turn, it would do the most amazing 1-wheel peels you can even imagine.
It had every conceivable option, and was quite the luxury sedan at the time.
Up for sale is what appears to be a really nice Maxima in its original Thunder Black paint. It has 56k miles on it, which is amazing. Datsun (Nissan) made a diesel version of this car, and also made a station wagon. Thankfully, we are looking at a gasoline sedan here.
The owner claims it has little to no rust, wears its original 14″ alloy wheels, but sadly has an aftermarket CD player. The exterior appears to be in good condition. The interior is close to mint.
I am hoping to find a 1980's era magazine that had a full road test on a 1st gen Maxima. If I do, I'll try to remember to come back to this post and add it.
Some specs on the car:
MRSP Price: $9979 + $150 Destination (There were no options available, it came fully loaded) This was it, nothing could be added, unless the dealer sold you under-coating or racing stripes or other crap. As I understand it, when the car first was introduced, this was the case. The diesel and manual tranny were not options, yet.
ENGINE/DRIVETRAIN:
Engine: 6 inline, iron block & aluminum head
Bore & stroke: 3.27 x 2.90 in (83x74mm)
Displacement: 146cu. in. (2390cc) 2.4liter
Compression ratio: 8:9:1
Fuel system: EC/Bosch L-Jetronic fuel injection
Valve gear: chain-driven overhead cam, solid lifter
Power (SAE net): 120 bhp @ 5200 rpm
Torque (SAE net): 134lbs:ft. @ 2800rpm
Redline: 7000 rpm
3-speed auto transmission
Final-drive ration: 3.54:1
DIMENSIONS & CAPACITIES:
Wheelbase: 103.3 in.
Track F/R: 54.7in / 53.9in.
Length: 183.3 in.
Width: 65.2 in.
Height: 54.5 in.
Ground Clearance: 6.7 in.
Curb weight: 2880 lbs.
Weight distribution (F/R): 52.8% / 47.2%
Fuel capacity: 16.4 gal.
Oil capacity: 5.2 qt.
Water capacity: 11.6 qt.
INTERIOR:
SAE volumes:
front seat: 49 cu. ft.
rear seat: 34 cu. ft.
trunk: 10 cu. ft.
SUSPENSION / STEERING:
F: ind. MacPherson strut, coil springs, anti-sway bar
R: ind. semi-training arm, coil springs, anti-sway bar
Steering type: rack-and-pinion, power-assist
Turns, lock-to-lock: 3.1
Turning circle, wall to wall: 37.7 ft.
BRAKES / WHEELS / TIRES
Front brakes: 9.8 x 0.7 in vented disc
Rear brakes: 10.6 x 0.4 in solid disc
Power assist: Vacuum
Wheel size: 5.5 x 14 in.
Wheel type: cast aluminum
Tire make: Bridgestone RD 113 Steel-belt
Tire size: 185/70SR-14
CAR AND DRIVER TEST RESULTS:
Zero to 30mph: 3.9 sec
Zero to 40mph: 5.7 sec
Zero to 50mph: 7.8 sec
Zero to 60mph: 10.5 sec
Zero to 70mph: 14.2 sec
Zero to 80mph: 18.6 sec
Zero to 90mph: 26.3 sec
Standing 1/4 mile: 17.9 sec @ 79 mph
Top speed: 111mph
Braking: 70-0 mph @ impending lockup: 207 ft.
Fuel economy: EPA city: 22mpg, EPA highway: 27mpg
Car and Driver observed fuel economy: 18mpg
Interior sound levels: idle: 48dBA, Full-throttle: 75dBA, 70mph: 73dBA
The 1981 Maxima was THE FIRST car to use a voice-system in a production car in the world.
Stats based off of 1984 yr.
1984 E.P.A Est. Milage
36 Hwy/23 City — 5 speed, 3.545 final drive ratio
34 Hwy/23 City — Auto 4-speed overdrive, 3.700 fdr
Power 4-wheel disc brakes standard on the sedan
Rack-and-pinion power steering
Ind. MacPherson struts with zero scrub radius in the front
Fully ind. semi-trailing arm in the rear
The guys is asking $9,500. I'm not sure he'll get that, but he certainly does have a fairly rare car.
One existential question – If you had $10k to spend these days, and you had two choose one of the following, would you pick a 1st gen Maxima, or a BMW E30? The 325 sold in the States from the mid-80's until the early 90's was somewhat comparable. It had 168hp and the March 1989 issue of Car and Driver listed them at 7.5 sec 0-60 mph, with a 15.5 sec 89mph quarter mile. At least in terms of performance, the E30 is the better car.
But maybe that argument isn't necessary. After all, it's 1carperday, and we're allowed to buy both in our fantasy world!
Update:
I found the road test article I mentioned. It is in the April 1981 issue of Car and Driver magazine. Because I'm awesome, I've provided some screenshots of the article below. Of course I am not presenting this work as my own, I'm showing it here as research for the Maxima, and using it under "fair use" policy.
They start the article out with a story about a neighbor asking about the car after seeing it in the writer's driveway.
They talk a bit about the Datsun to Nissan switch, and a bit about the Datsun 810 roots of the Maxima.
It's funny that all of the photos for the article are in black and white. That was just how things were done in 1981!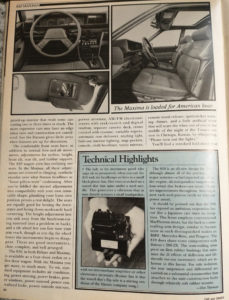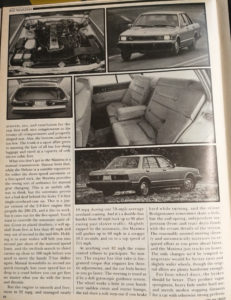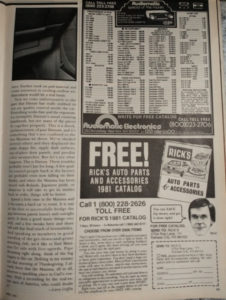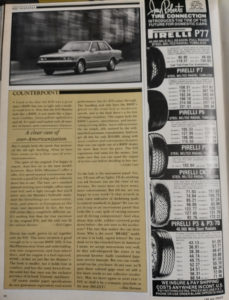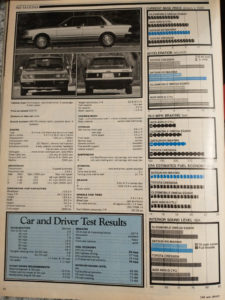 1982 Datsun/Nissan Maxima 5-speed