Restomods are popular these days.
And they are big business too.
The market is way, way up right now. Despite covid, the stock market is up, and big money folks have just as much money right now as ever. But because of covid, it seems like they have less to spend it on.
After going through the pandemic, more people are saying "what the hell" and spending big bucks on sentimental or pure enjoyment items. Plus, the used car market has been driven in part by a reduction in the willingness of people to use public or mass transportation.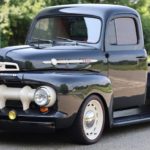 So we see this convergence of demand, but a fairly tight supply. Folks who build high end restomods have been hit by labor shortages due to covid, just like many industries. Raw materials and parts prices are up.
I have seen some really nice projects lately selling for some really big bucks. And this is one of them.
It started life out as a 1952 Ford F-1 pickup. And the restoration and modification began in 2015.
Boxed frame
Power rack and pinion steering
4-wheel disc brakes
Independent front suspension
Rear 4-link suspension
Woodward vintage instrument clusters
5.0 liter v8 Coyote engine from a 2012 Mustang
TR3650 5-speed manual transmission, stage 2 clutch
3″ exhaust system
Aeromotive fuel pump
8.8″ rear with limited slip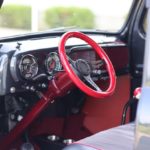 As you can see from the photos, this thing looks incredibly clean. So much thought and effort went into the build, with tons of small details. As crazy as it sounds, the owner says the new stereo system has no speakers. Of all the places to stop, of all the corners to cut, or things that could be left undone I wouldn't think speakers would've been worth having a conversation about.
This thing sold earlier this month for $72,000.
Now look, that's a lot of money. I get it. For $72k these days, you can buy a lot of car(s). The base price of a new 2022 Porsche Cayman is $60,500. You can buy a mint condition NSX for less than $70k.
But if you look at the amount of work that went into this truck, I really don't think $72k is excessive. I'm going to do a stupid thing here, and put together some estimates:
$7,500 initial truck purchase, doesn't run and needs work
$3,000 exterior trim, glass, misc parts
$5,000 exterior paint
$3,000 interior refurb, door panels, dash, seats, headliner
$3,000 suspension work front and rear
$2,000 new wooden bed
$1,000 fuel system
$2,000 brake system
$8,000 used Coyote engine
$1,000 engine refurb
$2,000 used transmission
$2,000 custom mounting for engine and trans
$1,000 driveshaft
$1,500 clutch system
$1,500 cooling system
$1,500 wiring and electrical
$1,000 reprogramming and tuning
$3,000 wheels and tires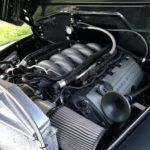 I'm at $45k, and that really doesn't include a lot of misc labor. Could you replicate this build for $72K? Maybe. But it would potentially take you months if not years, and some of these parts are only becoming more scarce and expensive every day.
Regardless of the business or money side of things, the build seems awesome, and it would be incredible to spend some time behind the wheel.
As a side note, almost on the same day a crazy restomod of a 1947 Chevy 5-window Flatbed truck with a Cummins 6.7 liter turbo diesel sold for $80,500. Wow. You have to wonder if some of these prices have peaked.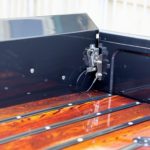 1952 Ford F-1 Pickup Restomod