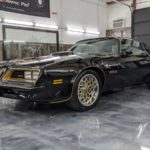 Coming to us from Cumming, Georgia (via the Atlanta Craigslist) is this whopper of a Trans-Am.
Everyone has a different opinion on resto-mods.  Some will tell you they aren't a particularly good investment.  On the one hand, with any classic car, you can argue they are rare and only getting rarer, so a properly restored car might be more valuable or a better investment than one that has been modified.  I'd prefer to look at a car as primarily something to be enjoyed rather than an investment.  Along those lines, I'd say buy whatever makes you happiest and brings you the most joy!
The ad lists
600 hp LS3
six speed auto 6l90 with billet stall converter
Checkered Racing tubular front frame
coilovers
rack and pinion steering
14″ six piston Wilwood (disc) brakes in the front
13″ Wilwood in the rear
3.73 Detroit true trac posi-traction rear
Slide-A Link traction control
Vintage air conditioning
DVD player
Dakota digital dash and gauges
18″x9″ billet Year 1 snowflake wheels
functional cold air intake through shaker hood
Fisher t-tops
ceramic coated paint
semi-non-politically correct dixie flag up front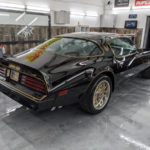 This car looks phenomenal in the photos. But still not perfect. You can see some dust on the fenderwells in the underhood shots, and what looks like dust on the console in the interior shots. There's a small amount of debris and maybe some mud on the driver's side floormat.
The car definitely has some history and an interesting backstory. I think it's being sold by Troy Brumbalow, the current mayor of Cumming. Here's an article about Troy and the car.
In 1978, Pontiac surprisingly sold about 187,000 Firebirds. Of those, only approximately 90,000 were Trans-Ams. The curb weight on these was reported to be around 3,600 lbs. After the resto-mod, with the new engine and tranny, and even new brakes and suspension, plus the addition of the AC stuff, who knows how much this particular car weighs. But with 600 hp, we can assume it won't have any trouble getting out of its own way!
Asking price… $50,000.
1978 Pontiac Trans-Am Restomod