The first generation Lexus IS sedan was built from 1998-2005. It was known for being fairly stylish, and fairly refined in terms of noise levels, isolation, and luxury. It handled well enough, but it weighed 3400 lbs and with the 3.0 liter inline six, its 215 hp spun it up to a mediocre 7.3 second 0-60 time. That's not gonna put ya to sleep, but it's not gonna set your hair on fire either.
Even when C&D tested it back in 2004, they came to the conclusion what the thing really needed was more power.
Hmm… I wonder if sprinkling a little LSx juju in the engine bay might spruce things up a little?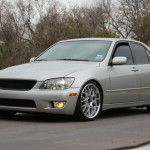 Well as a matter of fact, somebody has tried that already!
The build of this car was documented on numerous forums, including ClubLexus, LS1Tech, and MyIS. Here are some of the specs:
* 2001 Lexus IS300
* LS3 6.2L V8 swap (same motor as the 2008-2013 Corvette for those not in the know). Bottom end had 50k miles at time of swap; heads were brand new.
* Dyno'd @ 459hp/ 425ft lbs. Car was dyno'd with an aftermarket cam that has since been removed, however it is included in the sale. I would estimate the cam at 40-50hp, so the car is probably around 410-420rwhp as it sits.
* Best ¼ Mile = 11.8 @ 120mph
* T56 6 speed transmission
* KW Variant 3 Coilovers
* Original development car for Dedicated Motorsports who pioneered the IS300 LSX swap. This is car #001. Build is fully documented in multiple threads linked below.
* Less than 15k miles on swap
* Interior = 9.5. Seats, carpet, and panels are near perfect.
* Exterior = 8.5. Paint is in great condition overall but is original and does have some imperfections commensurate with age/mileage. Certainly a presentable daily driver, but not quite a show car/ trailer queen.
* Engine Bay = 10. All wires have been properly wrapped, covered, and soldered. Additionally the engine bay has been wire tucked; looks even better than OEM.
* Weighs 3374 (full tank of gas, including all stereo equipment, spare tire, etc). The LS3 weighs a few pounds less than the 2JZ-GE it replaced, so the excellent weight balance of the IS300 is unchanged by the swap.
Did you see that, Vern? 410 rwhp with the *mild* cam. Do you think going from 215 bhp to 410 rwhp will properly motivate this sucker down the road? Amen to that.
I don't take the term "Ultimate Lexus Swap" lightly. If you watch this thing tear it up on the track (videos posted below), you will understand how incredibly well-sorted this car is.
According to the owner:
This car is unbelievably well built. I haven't had to turn a wrench on this car during the 4+ years I've owned it. Other than having the differential upgraded/replaced it has never seen the inside of a shop either. Just turn the key, enjoy, and repeat!
Some more details:
1) LS3 – this build paired a low mileage block with brand new heads; everything was fully refreshed and properly built. Additionally the LS3 received many upgrades to improve performance, strength, reliability, and to support forced induction at some point in the future. To me all of this was far preferable to buying a car with the junkyard LS1 pullout that has an unknown history.
2) Well Built & Fully Documented. This car was built by Matt Owen who pioneered the IS300 LSX swap. This was the first car he built – there was a ton of time, labor, and dollars spent in order to make this car perfect. The attention to detail is outstanding. See links to build threads below. The quality of a swapped car is fully dependent on the builder, and Matt Owen is one of the best.
3) 100% Complete. This build is so much more than just a motor swap. No expense of time or dollars was spared to make this car right. Beyond the motor this car boasts enhancements to just about every other system: Suspension, Brakes, Cooling, Exhaust, Audio Video, Fueling, Wheels/ Tires. Also this car has working AC; a lot of other builds neglect that. Depending on where you live that could be a major issue.
It's the quality of the swap that really catches my eye. I think it sold for a fairly reasonable price ($20k maybe?).
If you just can't get enough:

Engine
6.2L LS3 V8
EPS 236 242 .600 Lift Camshaft (included but not installed)
Professionally dyno tuned
Dedicated Motorsports Engine Mount Kit
Dedicated Motorsports Modified LS2 Oil Pan
2010 Corvette Intake Manifold and 42lb Injectors
Nick Williams 92mm Throttle Body
LS7 Roller Lifters
Comp Hardened Pushrods
Comp Dual .650 Lift Valve Springs
Hardened Seats
Titanium Retainers
LS6 Oil Pump
Billet Double Roller LS2 Timing Chain
MSD Spark Plug Wires
Billet Power Steering Pulley
ARP Harmonic Balancer Bolt
True cold air intake routed to opening in front of passenger side wheel well
All new GM seals and gaskets prior to installation
Drivetrain
T56 6 speed Transmission
Limited Slip Differential. M85/ 3.73 ratio. Upgraded from the M98/ 3.9 in 2013 due to the more desirable ratio for a car with this much power.
LS7 Clutch and Steel Flywheel
Dedicated Motorsports Two Piece Driveshaft
Dedicated Motorsports Clutch Hydraulic Kit
Dedicated Motorsports Shifter
Suspension
KW Variant 3 Coilovers
Hotchkis Sway Bars – Front and Rear
FIGS Traction Bars
FIGS Rear Toe Links
FIGS Solid Steering Rack Bushings
Dedicated Motorsports Solid Differential Bushings
Dedicated Motorsports Spherical Rear Lower Control Arm Bushings
Wheels/ Tires
ASA AR1 wheels – 18×8 front, 18×9 rear. Perfect condition; zero curbing.
Front Tires: Kumho Ecsta XS 235/40/18 front (50%)
Rear Tires: Continental Extreme Contact 265/35/18 (new; <500 miles) Brakes FIGS Supra Brake Rotor Brackets DBA Slotted Brake Rotors (MKIV Supra 13" Rotors) Hawk HPS Brake Pads - front and rear Motul Brake fluid Fuel Walbro 255hp Fuel Pump -6 Prolite Fuel Lines Trickflow Fuel Pressure Regulator Cooling Koyo Aluminum Radiator 160 Degree Thermostat Stereo The stereo in this car is phenomenal. The 5 channel amp pushes a ton of power through the 10" subwoofer and speakers. Additionally the head unit has a ton of features: it plays DVDs, has a touch screen, includes iPhone lightning cable hookup in center console (can be modified to fit Android or other devices with a different USB cable), integrates Pandora, has an SD slot for music/media, and more. There is a knob wired below the driver's seat that allows for easy adjustment of the subwoofer level. * Pioneer AVH4300DVD * MB Quart OA 1100.5 5 channel amplifier Exhaust Dedicated Motorsports 1 3/4 headers with 3 inch collectors Stainless Steel Custom Dual Exhaust; includes two separate center sections that can be swapped out: * Exhaust #1: X pipe; no cats or resonators * Exhaust #2: includes cats and resonators; separate runners Exhaust work performed by Enthuza Exhaust in Atlanta, GA Other Best year of IS300 – 2001 is the only year without the "sticky dashboard" issue Dedicated Motorsports Power Steering Line Kit Passes Georgia emissions with ease HP Tuners Pro Dakota Digital Tach Converter Scan Gauge OBDII Reader PLX Wideband O2 Sensor and Gauge Taylor Battery Box (mounted in trunk for improved weight balance)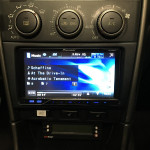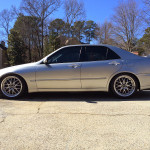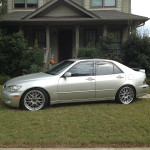 The Ultimate Lexus Swap? LS3 IS300